Mutually Beneficial Strategic Partnerships
We know that mutually beneficial partnerships are the best way to make wireless technological innovations happen — and we have a track record in the wireless industry to prove it. We believe that developing solid, strategic partnerships is the way to bring great ideas to reality and we are currently working with several partners in the wireless industry to develop viable broadband wireless network development plans and bankable wireless business cases.
Over the years, our strategic partners have discovered the benefits of partnering with Wireless 20|20.

AIRCOM International (now TEOCO) is a leading independent provider of end-to-end network optimization consultancy and tools for IP and cellular networks. AIRCOM specializes in fields such as network planning, sharing, outsourcing and OSS.
Working with many of the world's largest operators, AIRCOM leverages its objectivity to view network quality and efficiency from the consumers' perspective. This enables its consultants and engineers to track market behaviours and trends to ensure networks achieve optimum performance.
Headquartered in the UK with offices in 18 countries, AIRCOM has more than 10 years' experience across 118 countries for over half of the world's mobile operators, including more than three million hours working on 3G networks alone. It continues to grow its customer base each year, offering objective yet pragmatic advice, training and support services, backed by high-performance tools designed to deliver real benefits for both subscribers and operators.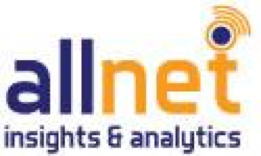 Allnet Insights & Analytics produces spectrum ownership tools to visualize and quantify each carrier's spectrum ownership in the United States, Canada, and Mexico.  Allnet's tools and reports provide both detailed spectrum assignment information for each US county or similar geographic boundary and comprehensive spectrum depth, LTE channel, licensed population and MHz-POPs estimates for each county's wireless carriers and spectrum licensees.
The Allnet Insights' Spectrum Ownership Analysis Tool is an advanced visualization instrument that gives users the ability to view and analyze the current and future spectrum ownership for the Mobile Carrier bands (Sub 6GHz) and the Millimeter Wave (5G) bands.  Spectrum depth and available LTE channels can be detailed for each carrier and spectrum licensee, by county, market, band classification (low, lower- mid band, or upper-mid band), frequency band, state or country.
The Web Spectrum Viewer is a Web-based product that allows users to visualize and analyze the current spectrum ownership for all of the Mobile Carrier (Sub 6GHz) and Millimeter Wave (5G) at a county level for all 50 states and US territories.  The Web Spectrum Viewer provides access to maps for each carrier's spectrum holdings and query able databases for both the Mobile Carrier bands and Millimeter Wave bands. 

Arthur D. Little is one of the world's premier consulting firms, with 35 offices around the globe. Founded in 1886, Arthur D. Little have worked side by side with outstanding organizations worldwide to identify the critical problems that will define their futures and then work with them to jointly derive creative, practical solutions. Arthur D. Little was the first management consulting firm built on operational, strategy, and technical expertise backed by deep industry knowledge. Arthur D. Little distinguishes by the caliber of its people, the breadth and depth of experience, and its commitment to helping clients achieve lasting change founded on learning.
Arthur D. Little has developed cross-sector expertise combining in-depth industry knowledge with cross-functional expertise to deliver exceptional value.
Industries Served: Automotive, Chemicals & Healthcare, Energy & Utilities, Engineering and manufacturing, Financial Services, Public Services, TIME (Telecommunications, Information, Media & Electronics), Travel & Transportation.
Functional Areas of Expertise: Strategy & Organization, Information Management, Operations Management, Sustainability & Risk, Technology & Innovation Management
As far as the TelCo industry is concerned, Arthur D. Little Global TIME Practice (Telecommunications, Information, Media & Electronics) focuses on 7 areas, addressing major top and bottom-line challenges, as well as inorganic growth:
Business transformations and Operational models 2020
Value growth strategies
Innovative business designs
Content & digital media strategies
Network technologies & economics
Operational excellence
Transaction related services
Arthur D. Little strives to exceed clients' expectations and to deliver genuine value with an emphasis on objectivity and clarity, maintaining the highest standards of confidentiality. It is known for its integrity, honesty and independence. The long term success of Arthur D. Little business depends on the quality of its work and satisfaction of its clients. Arthur D. Little consulting activities deliver value to society in many diverse ways through the advice they give.

CelPlan Technologies is a leading provider of Radio Frequency (RF) planning & optimization tools and value-added consulting, engineering and training services to the wireless industry.
With more than 21 years of experience, CelPlan has facilitated the design, optimization and expansion of large and small networks throughout the world. The firm's broad, all-inclusive focus on all segments of the wireless industry combined with its powerful and sophisticated portfolio of RF engineering capabilities and RF tools, enables it to successively and efficiently resolve the most intractable wireless problems.
CelPlan creates new opportunities for mobile operators, vendors and partners to boost performance, reduce costs, and retain customers by providing innovative, RF planning and optimization solutions and value-added consultancy and engineering services.
For more information about CelPlan Technologies, please visit www.celplan.com.

Maravedis Inc. is a world-leader and pioneer in Broadband Wireless and WiMAX market research and analysis. Maravedis has established itself over the years as the most credible and reliable market intelligence in the broadband wireless industry. At Maravedis, we have at heart to work closely with equipment vendors, service providers, the component feed chain, and the investment community to produce reliable analysis of equipment shipments, emerging trends and realistic market forecasts worldwide.
Setelia Strategy Consultants is a Holland-based boutique consultancy firm. The company designs and implements strategies by bridging technology and business objectives. Its professionals are experts in Technology, Media and Telecommunications, and all are certified SAFe Agilists.
Change has become part of everyday live for almost every company and institution. Technical innovation will continue to be critical to any industry. There are many external forces that will significantly impact how the TMT industry (technology-media-telecommunication) will evolve over time. Assessing your company's future becomes a key step in navigating the quickly changing digital landscape in business. Doing business as usual is riskier than investing in ways to transform your business with technology.
How does technology change matter to you? What is driving change in your industry? What enables you to achieve innovation and to prepare for 2020? Setelia Strategy Consultants helps to build or extend your innovation agenda.
Professional Memberships