Major MNOs are in a very challenging position as mobile data demand continues to expand at a breakneck pace. As smartphone usage becomes an inherent part of everyday life, MNOs are challenged to keep up with ever-increasing demand for perfect coverage and adequate capacity. In most developed countries, MNOs must aggressively compete for subscribers and keep up with the escalating demand for capacity and coverage, which translates to flat ARPUs and more CapEx each year.
At some point, mobile operators reach a point where they cannot keep up with the continued need to increase capital spending each year. One potential solution is to embrace shared infrastructure where third parties provide a shared in-building wireless or outdoor mobile network infrastructure that can support multiple operators.
As MNOs are challenged to keep up with investment required to meet the ever-increasing demand for mobile data capacity, opportunities are being created for third-party Neutral Host operators to deploy shared infrastructure that can augment the capacity and coverage of multiple MNO networks. Financially, this results in more efficient use of capital for both the MNOs and Neutral Host operators. Most neutral host networks today are deployed in key strategic venues like stadiums, shopping malls, and large office buildings. But neutral host networks are expanding to include other venues and parts of the outdoor network coverage as well driven in part by the evolution to 5G.
WiROI™ Neutral Host Networks Business Case Analysis Tool
Wireless 20/20 has developed a WiROI™ Business Case Tool to help clients to understand the market conditions that can enable neutral host deployments, the technology, and spectrum required to support the coverage and capacity needs for multiple operators and the potential business models that can be pursued with the operators to enable such neutral host networks.
To test interactive demonstrations of our WiROI™ Business Case Analysis Tools, CLICK HERE TO REGISTER. Already Registered? CLICK HERE TO LOGIN.
WiROI™ Neutral Host Networks Business Case Analysis Tool GUI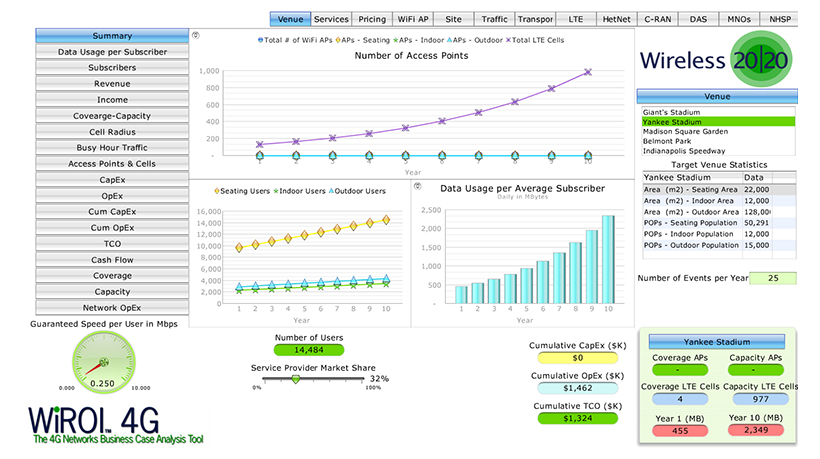 Presentation: Modeling Connected Public Venues
Click on the image below to launch the Wireless 20/20 Presentation - Modeling Connected Public Venues Using the New WiROI Venue Tool.