Wireless 20/20 has developed a new WiROI™ 5G Business Case Tool designed to allow operators to customize a 5G network business case analysis for any spectrum band, deployment strategy, service model and target market.
Our WiROI™ 5G Tool was developed to analyze the technical and financial aspects of deploying 5G networks using multiple low, mid and high spectrum bands to deliver Gigabit broadband to fixed wireless venues, such as single-family homes, multi-dwelling units (MDUs) and enterprise buildings.
The WiROI™ 5G Networks Business Case Analysis Tool can also be used to analyze 5G network technology options from multiple vendors, as well as simulate various methods for monetizing the investment in 5G networks. 
Wireless 20/20 has leveraged our experience in over 150 engagements working with both mobile and fixed wireless operators worldwide to create this newest version of their award-winning WiROI™ Business Case Analysis Tool.
The result is a comprehensive Return on Investment (ROI) analysis for both mobile and fixed broadband service providers. 
WiROI™ 5G is based on the following Wireless 20/20 paradigm for 5G use cases rather than the original 3GPP 5G paradigm. These networks leverage 5G wireless technologies to drive the ultra-low latency and much higher capacity than current 4G LTE Advanced networks.    
Most of the 5G NR NSA networks currently being deployed by our wireless operator clients are focused on Fixed Wireless Access and/or Enhanced Mobile Broadband.  These operators plan to phase in massive IoT and critical communications applications as they transition to standalone 5G NR solutions. 
The Wireless 20/20 WiROI™ 5G Business Case Tool provides unique insight on the CapEx, OpEx, and revenue associated with these types of deployments and the trade-offs between 5G deployments using various licensed and unlicensed spectrum bands.  The WiROI™ 5G Tool offers network operators and equipment manufacturers the means to simulate a 5G wireless network deployment and analyze the associated capital and operational expenses.  This includes Private 5G Networks using dedicated radio equipment with licensed, unlicensed, or shared spectrum to support a wide range of enterprise services, industrial and IoT applications.
This new modeling platform accepts a wide range of market data, technical parameters, and financial and service planning inputs that an operator can tailor for their particular deployment plan.   
To test interactive demonstrations of our WiROI™ Business Case Analysis Tools, CLICK HERE TO REGISTER. Already Registered? CLICK HERE TO LOGIN.
WiROI™ 5G Business Case Analysis Tool GUI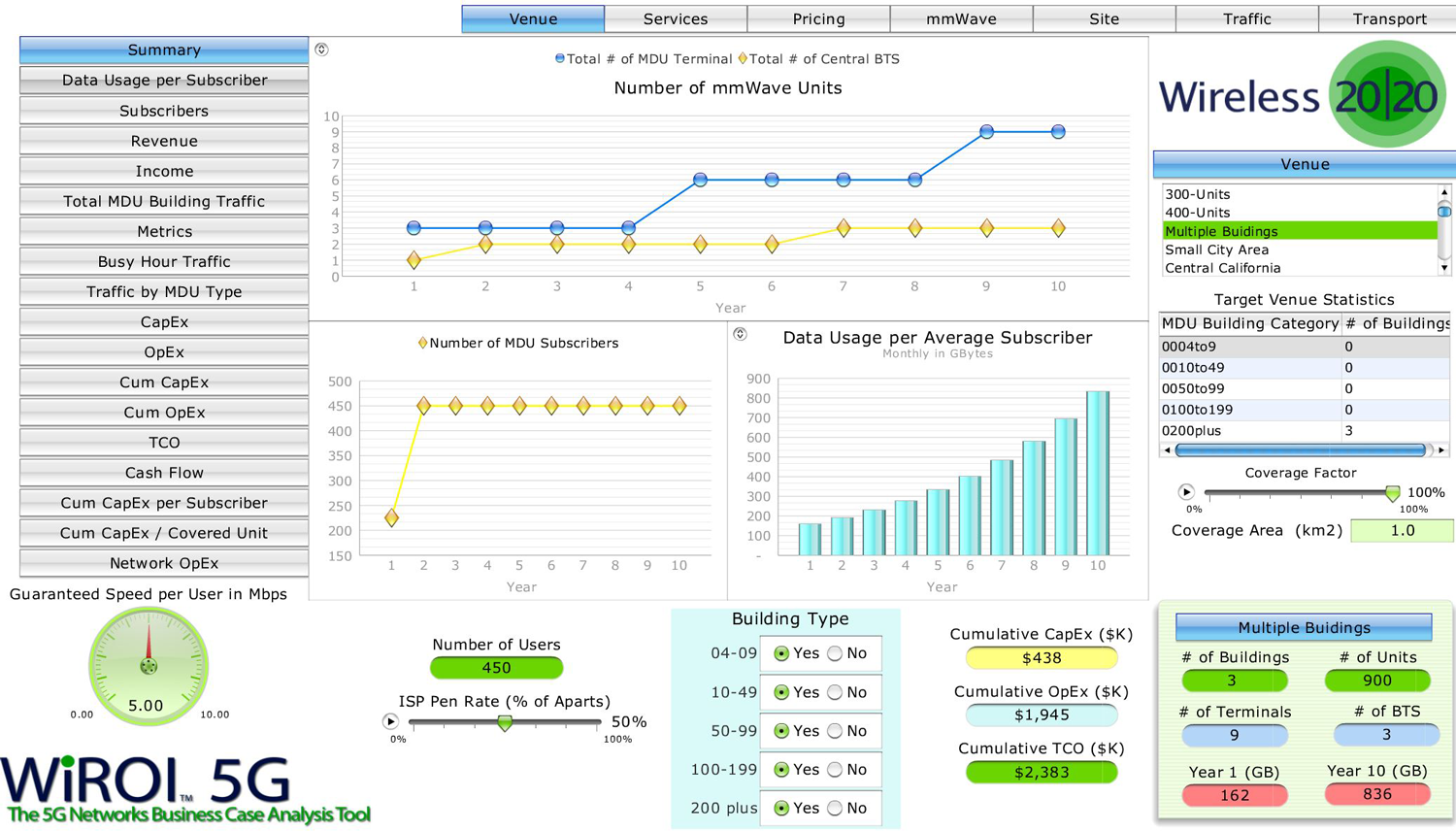 The new WiROI™ 5G Tool provides operators a hands-on method for conducting business case simulations of the use of fiber and microwave backhaul for 5G small cells, new multi-point mmWave equipment for MDUs and the most innovative antenna designs, including multi-sector antennas, MU-MIMO, and advanced beam-forming technologies.