Interactive WiROI™ Wi-Fi Offloading Business Case Analysis Tool GUI
The undisputed fact is that mobile broadband data networks (3G and 4G) face an uphill battle against increasing data usage and declining ARPUs while the ROI on macro network expansions are scrutinized by shareholders. Many operators are looking to Wi-Fi offload as a way to push some traffic off the primary 3G/4G data network onto a Wi-Fi network in order to share some of the traffic load. But while many have looked at Wi-Fi offload solutions, there has not been a way to do a comprehensive economic study for an operator to determine when and where Wi-Fi offload makes economic sense and how to optimize the deployment of Wi-Fi offload to maximize ROI. Until now!
Wireless 20|20 has leveraged their in-depth knowledge based of over 60 engagements with 3G/4G operators to create their newest version of the award-winning WiROI™ Tool which allows you to analyze the economic impact of offloading 3G/4G data to Wi-Fi.
WiROI™ Wi-Fi Offloading Business Case Analysis Tool
The WiROI™ Tool can model all of the technical, financial and commercial parameters for an operator's 3G and 4G network deployment. By modeling all CapEx, OpEx, and revenues for a 3G/4G network, the Tool outputs a complete 10 year income statement. The addition of the Wi-Fi offload module enables the analysis of the Total Cost of Ownership (TCO) tradeoff between deploying a Wi-Fi offload network and adding additional capacity into the 3G and 4G network. Further, the new version of the WiROI™ Tool allows operators to pinpoint the optimal Wi-Fi coverage and access point density that will maximize the return for an operator.
To test interactive demonstrations of our WiROI™ Business Case Analysis Tools, CLICK HERE TO REGISTER. Already Registered? CLICK HERE TO LOGIN.
WiROI™ Wi-Fi Offloading Business Case Analysis Tool GUI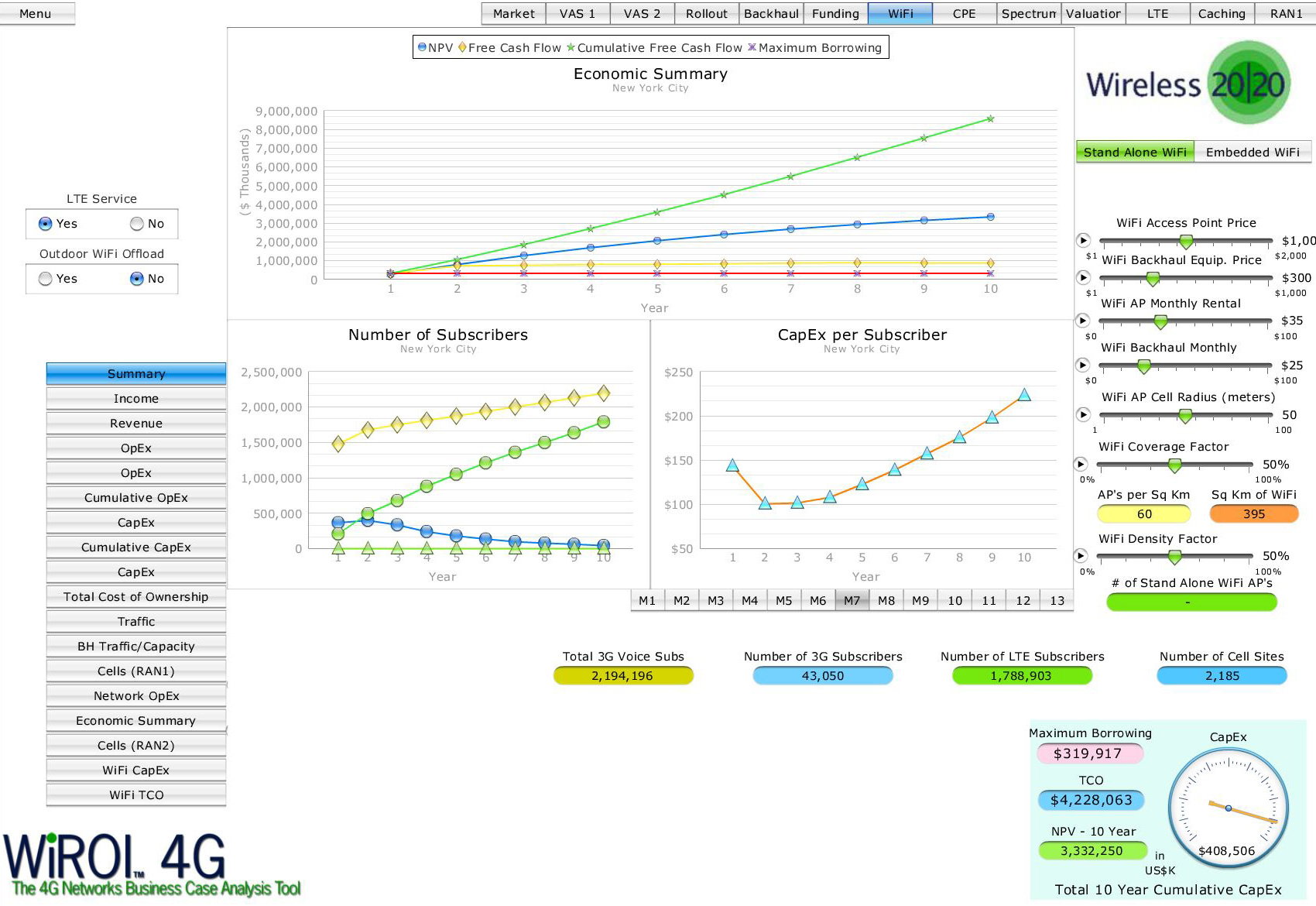 Case Study: ROI Analysis of Wi-Fi Offloading
Click on the image below to launch the presentation of the Wireless 20/20 study and business case analysis of offloading 3G/4G Data to Wi-Fi.
Wireless 20/20 has conducted case studies where Wi-Fi offload could be deployed to help mitigate 3G/4G data traffic growth. The results of the case study are included in the presentation. The study found that a detailed analysis is required for every deployment. The key analysis assumptions, such as expected traffic load, density of subscribers, Wi-Fi coverage, Wi-Fi access point density factors, expected OpEx costs, are critical in determining the economic impact of adding Wi-Fi offload into a network deployment plan. In dense environments, such as New York City, the study showed that an improvement of 7.2% in the Total Cost of Ownership can be achieved with an optimized deployment of a Wi-Fi offload network. In a smaller city, such as San Diego, the economic analysis can pinpoint the optimal combination of Wi-Fi coverage and density that will optimize ROI. The key is that every case is different, and an operator must do the detailed business case analysis to understand how Wi-Fi offload can help their deployment plans.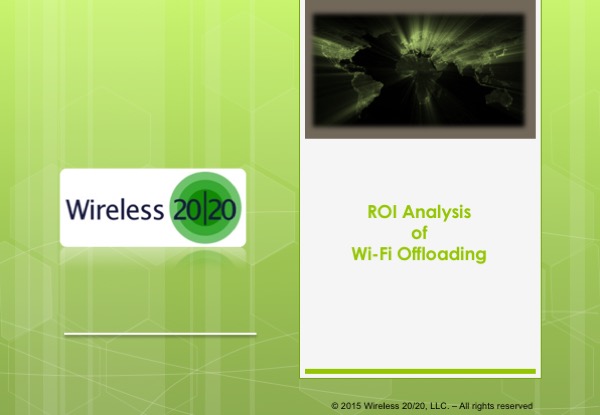 White Paper: Carrier Wi-Fi Offload
Click on the image below to download a copy of the recently published Wireless 20/20 White Paper Carrier Wi-Fi Offload.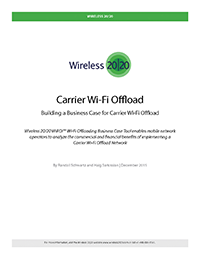 3G/4G Data Traffic Calculator
Heavy Reading market research and analysis has demonstrated that public hotspots, home and office-based Wi-Fi networks already carry a substantial portion of a subscriber's daily smartphone traffic. These estimates suggest that from 20%, up to 80%, of smartphone-user traffic is already being offloaded using these Wi-Fi connections.
Estimating the monthly data consumption per user over time is one of the critical first steps to understanding the economic analysis for Wi-Fi offload. Wireless 20/20 has developed a Data Traffic Calculator to help estimate the load on a 3G/4G network based on market specific assumptions for data usage and the percentage which is already being offloaded by home and office Wi-Fi networks. The Calculator then helps visualize the remaining amount of data traffic carried by an MNO Wi-Fi network. The Calculator can be used to adjust the following input assumptions.
Determine the amount of data consumed by an average subscriber per month (Default value is 20 GBytes per month)
Determine annual data consumptions growth (Default value is 20% per year)
Determine the % of traffic carried by Home/Office networks (default is 65%)
Use the calculator to determine the Monthly Data Traffic per subscriber over the MNO Network
Set the % of MNO 4G Traffic offloaded onto the MNO Wi-Fi network
The Calculator illustrates the monthly amount of data that could be offloaded and the remaining traffic that must still be carried by the 3G/4G network over a ten year period.
Move the sliders to modify the data assumptions based on your estimates, then click on one of the selection in the Menu Bar to reveal the Data Traffic Calculator instant results.